Cartas para o Sul: boicotes epistemológicos no capitalismo artista para uma Sociologia do extravio, de Davis para Linn
Palavras-chave:
Sociologia, Gênero e Sexualidades, Epistemologias.
Resumo
No dia 22 de maio de 2018, a filósofa estadunidense Angela Davis escreveu uma carta para a cantora eatroz brasileira Linn da Quebrada em apoio à decisão desta de cancelar sua participação no Festival Internacional de Cinema em Tel Aviv, Israel. Anteriormente, Linn havia sido convidada a participar da programação do festival e da festa Queer Partycom o filme "Bixa travesty" que estreou em março, no Festival Internacional de Berlim. O cancelamento é visto por Davis como uma forma de protesto contra o Estado Israel e as políticas genocidas da Palestina diante do brutal regime de ocupação, colonização e apartheid. Nesse sentido, diante do que Lipovetsky e Serroy denominam de capitalismo artista, o trabalho procura compreender o boicote artístico de Linn como também um boicote epistemológico por emergir através da tensão entre gênero e feminismo vista como encontro necessário para um novo campo das ciências, como destaca Marlise Matos (2008). A partir das contribuições de Santos (2008) sobre as emergências e diante das reflexões de Latour (2015) sobre vínculos, se esboçam rumos para uma Sociologia do Extravio. 

PALAVRAS-CHAVE: Sociologia; Gênero e Sexualidades; Epistemologias.

 

Letters to the South: epistemological boycotts in capitalism artist for a Sociology of Loss, from Davis to Linn

 

RESUME

On May 22, 2018, American philosopher Angela Davis wrote a letter to singer and atrocious Brazilian Linn da Quebrada in support of her decision to cancel her participation in the International Film Festival in Tel Aviv, Israel. Previously, Linn had been invited to participate in the Queer Party festival and party program with the film "Bixa travesty" which premiered in March at the Berlin International Festival. The cancellation that appears as a form of protest against Israel and the genocidal policies on Palestine is seen by Davis as going against the brutal Israeli regime of occupation, colonization and apartheid. In this sense, in the face of what Lipovetsky and Serroy call artist capitalism, the work seeks to understand the artistic boycott of Linn as well as an epistemological boycott to emerge through the tension between gender and feminism seen as a necessary meeting for a new field of sciences, as it stands out Marlise Matos (2008). From the contributions of Santos (2008) on emergencies and the reflections of Latour (2015) on bonds, outlines directions for a Sociology of Loss.

KEY-WORDS: Sociology; Gender and Sexuality; Epistemology.  
Referências
BENTO, Berenice. 'Redwashing': discursos de 'esquerda' para limpar os crimes do Estado de Israel. Opera Mundi. 2017. Disponível: <http://operamundi.uol.com.br/blog/samuel/quebrandomuros/redwashing-discursos-de-esquerda-para-limpar-os-crimes-do-estado-de-israel/. Acessado em 12 de junho de 2018.
BELMONT, Flávia. A resistência à ocupação também é colorida: o pinkwashing israelense como tentativa de estigmatização da população palestina. 2016, 77f, TCC - Relações Internacionais. Universidade Federal da Paraíba. João Pessoa-PB.
Bixa Travesty. São Paulo, 2018, 75min. Dirigido por Claudia Priscilla e Kiko Goifman.
COLLING, Leandro. Que os outros sejam o normal: tensões entre movimento LGBT e ativismo queer. EDUFBA, 2015.
COLLING, Leandro. A emergência dos artivismos das dissidências sexuais e de gêneros no Brasil da atualidade. Sala Preta, v. 18, n. 1, p. 152-167, 2018.
DAVIS, Angela. [Carta] 22 mai. 2018, Estados Unidos, [para] QUEBRADA, Linn. São Paulo.1f. Solicita cancelamento de participação no TLV Fest.
FOUCAULT, Michel. Microfísica do poder. Rio de Janeiro: Graal, 1993.
HOOKS, bell. Black looks: Race and representation. South East Press, Bosta, MM, 1992.
LATOUR, Bruno et al. Faturas/Fraturas: da noção de rede à noção de vínculo. Ilha Revista de Antropologia, v. 17, n. 2, p. 123-146, 2015.
LIPOVETSKY, Gilles; SERROY, Jean. A estetização do mundo: viver na era do capitalismo artista. Editora Companhia das Letras, 2015.
MATOS, Marlise. Teorias de gênero ou teorias e gênero? Se e como os estudos de gênero e feministas se transformaram em um campo novo para as ciências. Estudos Feministas, p. 333-357, 2008.
MAURA, Julia. Face-Cam – Linn da Quebrada: Bixa Travesty. Friction Magazine. Realização: Julia Maura. Disponível em <https://www.youtube.com/watch?v=T7ardr-LbVU> Acesso em 24 de junho de 2018.
MOREIRA, Ribamar. Tirar os paus da mesa e pôr os cus na reta. Jornal Sertão Transviado. Ano 2, edição 5, Página 3. 2017.
MBEMBE, Achille. Necropolítica, una revisión crítica. In: GREGOR, Helena Chávez Mac (Org.). Estética y violencia: Necropolítica, militarización y vidas lloradas. México: UNAMMUAC, 2012, p. 130-139
PUAR, Jasbir. Terrorist Assemblages: Homonationalism in Queer Times. Durham: Duke University Press, 2007.
Oriented. Noruega, 2015, 86min. Dirigido por Jake Witzenfeld.
PARRINE, Raquel. Construção de gênero, laços afetivos e luto em Paris Is Burning. Estudos Feministas, v. 25, n. 3, p. 1419-1436, 2017.
Paris Is Burning. Nova Iorque, 1990, 78min. Dirigido por Jennie Livingston
QUEBRADA, Linn da. Pajubá. São Paulo: Web, 2017. 14 faixas. 1 CD.
RAPOSO, Paulo. "Artivismo": articulando dissidências, criando insurgências. Cadernos de arte e antropologia, v. 4, n. 2, p. 3-12, 2015.
ROLNIK, S. Cartografia sentimental: transformações contemporâneas do desejo. Porto Alegre: Sulina; Editora da UFRGS, 2011.
SAID, Edward. Orientalismo: O Oriente como invenção do Ocidente. Tradução de Laura Eichenberg. São Paulo: Companhia das Letras, 2007. 513 p.
SANTOS, Boaventura de Sousa. Para uma sociologia das ausências e uma sociologia das emergências. Revista crítica de ciências sociais, n. 63, p. 237-280, 2002.
________, Boaventura de Sousa. Epistemologias do Sul. Revista Crítica de Ciências Sociais, v. 80, p. 5-10, 2008.
SCHULMAN, Sarah. Israel and 'Pinkwashing'. New York Times, v. 22, 2011.
SLOTERDIJK, Peter. Regras para o parque humano: uma resposta à carta de Heidegger sobre o humanismo. Estação Liberdade, 2000.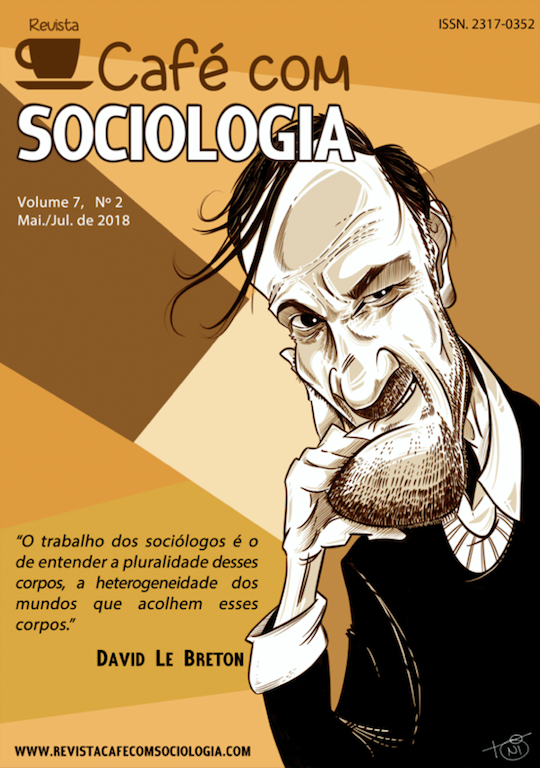 Downloads
Como Citar
Oliveira Junior, R. J. de, & Fortes, L. (2018). Cartas para o Sul: boicotes epistemológicos no capitalismo artista para uma Sociologia do extravio, de Davis para Linn. Revista Café Com Sociologia, 7(2), 43–57. Recuperado de https://revistacafecomsociologia.com/revista/index.php/revista/article/view/1002
Licença
Autores mantém os direitos autorais e concedem à revista o direito de primeira publicação, com o trabalho simultaneamente licenciado sob a 
Licença Creative Commons Attribution
que permite o compartilhamento do trabalho com reconhecimento da autoria e publicação inicial nesta revista.