O filme "O Abutre" (The Nigthcrawler) e os efeitos secundários do crime
Palavras-chave:
O Abutre. Crime e Criminalidade. Modo de produção capitalista
Resumo
O Abutre (The Nightcrawler). Estados Unidos, 2014, 117min. Dirigido por Dan Gilroy.
O presente trabalho tem como objetivo oferecer uma contribuição para a discussão do crime e da criminalidade contemporâneas. Para tal, uma análise do filme "O Abutre" (The Nightcrawler) foi feita, sob a luz da obra do sociólogo francês Loïc Wacquant, que é importante referência na temática das políticas de controle da pobreza e da criminalidade. Para contribuir com o dialogo, um excerto de Karl Marx sobre o tema foi trazido para a discussão, a fim de inserir o crime e a criminalidade no contexto do modo de produção capitalista.
This paper aims to offer a contribution to the discussion of crime and contemporary criminality. This requires an analysis of the film "The Nightcrawler" was made, in the light of the French sociologist Loïc Wacquant work, it's important to reference the theme of poverty and crime control policies. To contribute to the dialogue, an excerpt from Karl Marx on the issue was brought to discussion in order to enter the crime and criminality in the context of the capitalist mode of production.
Referências
BATISTA, Vera Malaguti (org.). Loïc Wacquant e a questão penal no capitalismo neoliberal. Rio de Janeiro: Revan, 2012.
Carta Capital. Após ofensa a ateus, Band terá de exibir campanha sobre liberdade religiosa. Carta Capital. Publicado originalmente em 25/05/2015. Disponível em http://www.cartacapital.com.br. Acessado em 01/10/2015.
GARLAND, David. As contradições da "sociedade punitiva": o caso britânico. Revista de Sociologia e Política da Universidade Federal do Paraná, v.3, n.13, pp. 59-80, nov. 1999.
MARX, Karl. Os Benefícios secundários do crime. Revista Panóptica, Vitória, vol. 9 (n. 28), p. 302-304, 2014.
NETTO, José Paulo. Capitalismo e barbárie contemporânea. Argumentum, v. 4, n.1, p. 202-222, jan. /jun. 2012.
O Corte (Le Couperet). França, 2005, 122min. Dirigido por Constantin Costa-Gavras.
SINHORETTO, Jacqueline; SILVESTRE, Giane; LINS DE MELO, Felipe Athayde. O encarceramento em massa em São Paulo. Tempo Social, revista de sociologia da USP, v. 25, n. 1, p. 83-106, 2013.
WACQUANT, Loïc. Os condenados da cidade: estudos sobre a marginalidade avançada. Rio de Janeiro: Revan, 2001.
WACQUANT, Loïc. Punir os pobres: a nova gestão da miséria nos EUA. Rio de Janeiro: Revan, 2007.
WACQUANT, Loïc. As prisões da miséria. Rio de Janeiro: Zahar, 2011.
WACQUANT, Loïc. As duas faces do gueto. São Paulo: Boitempo, 2015.
WACQUANT, Loïc. Dissecando a tolerância zero. Le monde Diplomatique, disponível em http://www.diplomatique.org.br/acervo.php?id=501&tipo=acervo. Acessado em 10/12/2015.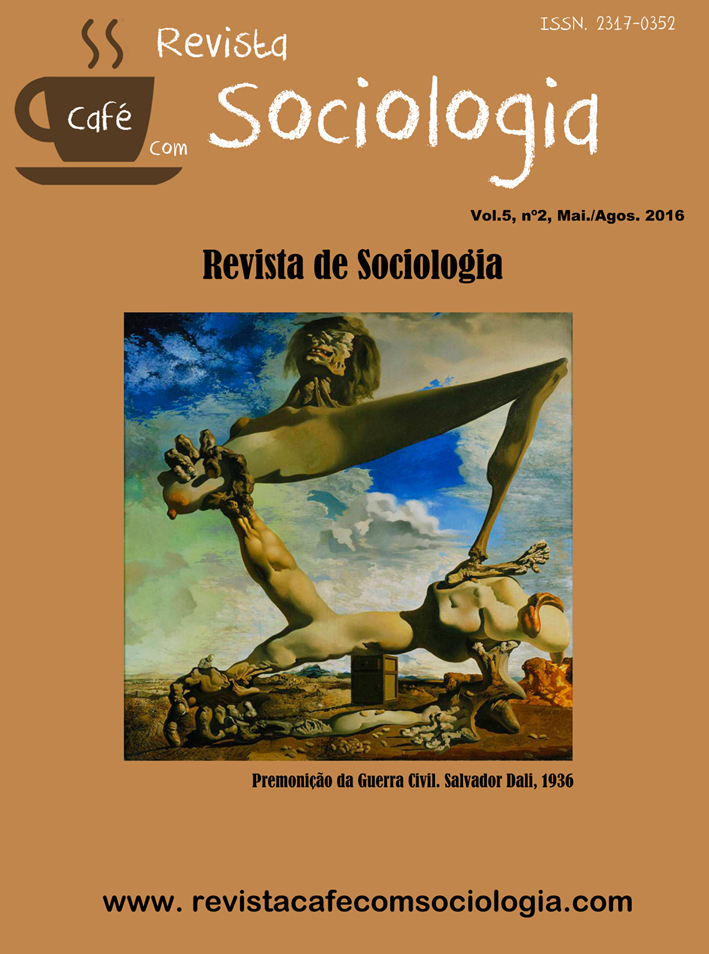 Downloads
Como Citar
Garcia, F. R. (2016). O filme "O Abutre" (The Nigthcrawler) e os efeitos secundários do crime. Revista Café Com Sociologia, 5(2), 25–35. Recuperado de https://revistacafecomsociologia.com/revista/index.php/revista/article/view/604
Licença
Autores mantém os direitos autorais e concedem à revista o direito de primeira publicação, com o trabalho simultaneamente licenciado sob a 
Licença Creative Commons Attribution
que permite o compartilhamento do trabalho com reconhecimento da autoria e publicação inicial nesta revista.