EDUCAÇÃO E DEMOCRACIA: um percurso contemporâneo
Palavras-chave:
Educação. Democracia. Contemporaneidade.
Resumo
Este artigo propõe uma tentativa de compreensão das possíveis intersecções entre educação e democracia no pensamento contemporâneo. Para tanto, adentramos em algumas questões hodiernas para identificar como se dá esta relação, afunilando as perspectivas de investigação com autores decisivos em nossa época. Destarte, nos debruçamos sobre as leituras de Robert Dahl, Noam Chomsky, Alain Touraine, Boaventura de Sousa Santos e Amy Gutmann, todos importantes nomes da discussão acadêmica em torno da democracia, com vistas à percepção das referidas intersecções, atinando igualmente para os contrastes resultantes do processo de consolidação da democracia. A análise de obras dos referidos autores mostrou que as relações entre democracia e educação continuam sendo uma nítida preocupação na reflexão contemporânea, vicejando como fundamental no trato de tópicos tais como, o modelo neoliberal de Estado, as ações afirmativas, a inclusão social, e as relações entre o público e o privado.
Palavras-chave: Educação. Democracia. Contemporaneidade. Estado. Escola.
EDUCATION AND DEMOCRACY:
a contemporary itinerary
Abstract
This article proposes an understanding of the possible intersections between education and democracy in contemporary thinking. To do so we approached to some modern subjects to identify how this relation is, specifying perspectives of research with nowadays decisive authors. Thus, we looked over the works of Robert Dahl, Noam Chomsky, Alain Touraine, Boaventura de Sousa Santos and Amy Gutmann, all important names of the academic discussion on democracy, in order to these intersections, infering likewise the resulting contrasts of consolidation process of democracy. The analysis of these authors showed that the relation between democracy and education remains a clear concern in contemporary thinking, being fundamental in topics such as the neoliberal model of state, the affirmative policies, social inclusion, and public-private relations.
Keywords: Education. Democracy. Contemporaneity. State. School.
Referências
ARISTÓTELES. Política. Brasília: Editora Universidade de Brasília, 1985.
BRASIL, Felipe. Teoria elitista clássica, democracia elitista e o papel das eleições: uma questão de definição dos termos. Primeiros Estudos. São Paulo: UFSCAR, n. 5, p. 100-121, 2013.
CHOMSKY, Noam. Estados fracassados: o abuso do poder e o ataque à democracia. 2. ed. Rio de Janeiro: Bertrand Brasil, 2009.
CHOMSKY, Noam; MACEDO, Donaldo. Para além de uma educação domesticadora: um diálogo com Noam Chomsky. Currículo sem Fronteiras. Associação Brasileira de Currículo. v. 4, n. 1, p. 05-21, Jan./Jun., 2004.
COSTA, Homero de Oliveira. Democracia e participação na teoria pluralista. Cronos. Natal: UFRN, v. 8, n. 1, p. 215-228, jan./jun, 2007.
DAHL, Robert. A democracia e seus críticos. São Paulo: WMF Martins Fontes, 2012.
FREIRE, Paulo. Pedagogia da autonomia. 38. ed. São Paulo: Paz e Terra, 2008.
GOMES, J. B. B. & SILVA, F. D. L. L. As ações afirmativas e os processos de promoção da igualdade efetiva. Seminário Internacional - As Minorias e o Direito. Brasília-DF, 2001.
GREPPI, Andrea. Concepciones de la democracia en el pensamiento político contemporáneo. Madrid: Editora Trotta, 2006.
GUTMANN, Amy. Democratic education. Princeton, N.J.: Princeton University Press, 1987.
KAUCHAKJE, Samira. Cidadania e participação social: inclusão social no campo dos direitos à igualdade e à diferença. In: SOUZA, Maria Antônia de; COSTA, Lucia Cortes da. (Orgs). Sociedade e cidadania: desafios para o século XXI. Ponta Grossa: Editora da UEPG, 2005.
LOPES, D. M. F. A ideia de autonomia do indivíduo em Amy Gutmann e a ideia do sujeito em Alain Touraine. Revista da Faculdade de Direito da Universidade Federal do Paraná. Santa Catarina/SC: UFPR, v. 30, n. 1, p. 19-25, 2000.
NASCIMENTO, I. M. R; SANTANA, J. S; SANTANA, R. S. Ações afirmativas voltadas para a educação uma questão meritocrática ou democrática?. IX Seminário Nacional de Estudos e Pesquisas "História, Sociedade e Educação no Brasil". João Pessoa-PB, 2012.
SANTOS, Boaventura de Sousa. A gramática do tempo: para uma nova cultura política. 3. ed. São Paulo: Cortez, 2010.
_______. A universidade no século XXI: para uma reforma democrática e emancipatória da universidade. São Paulo: Cortez, 2011.
_______. Reinventar a democracia. Lisboa: Gradiva, 1998.
SCHUMPETER, Joseph. Capitalismo, socialismo e democracia. Rio de Janeiro: Editora Fundo de Cultura, 1961.
SLOTERDIJK, Peter. Regras para o parque humano: uma resposta à carta de Heidegger sobre o humanismo. São Paulo: Estação Liberdade, 2000.
TOURAINE, Alain. O que é a democracia?. Petrópolis, RJ: Vozes, 1996.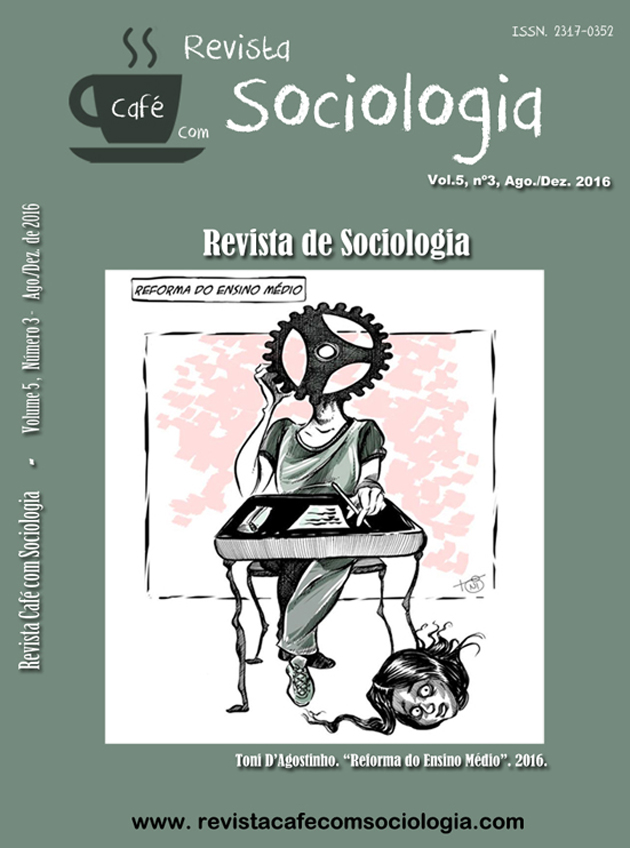 Downloads
Como Citar
Apolinário, J. A. F., & Menezes Feitosa, B. L. (2016). EDUCAÇÃO E DEMOCRACIA: um percurso contemporâneo. Revista Café Com Sociologia, 5(3), 122–141. Recuperado de https://revistacafecomsociologia.com/revista/index.php/revista/article/view/647
Licença
Autores mantém os direitos autorais e concedem à revista o direito de primeira publicação, com o trabalho simultaneamente licenciado sob a 
Licença Creative Commons Attribution
que permite o compartilhamento do trabalho com reconhecimento da autoria e publicação inicial nesta revista.