ESTÁGIO SUPERVISIONADO EM ENSINO DE SOCIOLOGIA: observação da formação e prática docente
Palavras-chave:
estágio, ensino, Sociologia, Psicologia da Educação,
Resumo
Olhar, ouvir e escrever, esta foi a proposta deste trabalho de observação de aulas do ensino da disciplina de Sociologia em uma escola da rede pública do município de Porto Velho, ação realizada como parte curricular da obtenção da licenciatura em Ciências Sociais na Universidade Federal de Rondônia. O objetivo foi analisar o comportamento de professores e alunos frente ao processo de ensino-aprendizagem e avaliar se os professores fazem uso dos conhecimentos gerais de disciplinas da formação pedagógica, em especial da psicologia da educação, que à priori foram adquiridos durante o período de graduação, objetivando transformar esse processo em um trâmite com maior possibilidade de aprendizagem do professor e aluno e constante preparação de ambos para a vida profissional e para a cidadania. A metodologia desta pesquisa consiste na análise conceitual de análises da Psicologia da Educação em relação a prática docente no ensino de Sociologia, buscando aproximar a prática das possibilidades de reflexão orientadas pela própria percepção dos autores do trabalho, objetivando realizar um relato de experiência dos processos formativos de Licenciatura em Ciências Sociais.
Palavras-chave: Estágio. Ensino. Sociologia. Psicologia da Educação.
SUPERVISED INTERNSHIP IN SOCIOLOGY TEACHING:
note guided by educational psychology
Abstract
Look, listen and write, this was the purpose of this work of observation of teaching sociology discipline classes at a public school in the city of Porto Velho, action taken as a curricular part of obtaining a degree in Social Sciences at the Federal University of Rondonia. The objective was to analyze the teachers and students behavior against the teaching-learning process and evaluate whether teachers make use of general knowledge of pedagogical training disciplines, especially the educational psychology that a priori were acquired during the graduation period, aiming to turn this process into a proceeding with greater possibility of the teacher and student learning and constant preparation both for employment and for citizenship. The methodology of this research is in the conceptual analysis of Psychology analyzes of Education in relation to teaching practice in teaching sociology, seeking to approach the practice of reflection possibilities guided by the perception of the authors aiming to achieve a experience report of the formative process of Degree in Social Sciences.
Key-Words: internship. Teaching. Sociology. Educational psychology.
Referências
BOURDIEU, Pierre. Escritos de Educação. Maria Alice Nogueira e Afrânio Catani (Org.). Petrópolis: Vozes. 2007.
Comunicado nº 66 Pnad 2009 "" Primeiras análises: Situação da educação brasileira: avanços e problemas, IPEA, novembro de 2010.
CRESWELL, J. W. Projeto de Pesquisa: Métodos qualitativo, quantitativo e misto. Porto Alegre. Editora: Artmed, 2007.
DEWEY, John. Experiência e Educação. São Paulo: Nacional, 1971.
"Education at a Glance: OECD Indicators". OECD (2015), Education at a Glance 2015: OECD Indicators, OECD Publishing, Paris.
FREIRE, Paulo. Pedagogia da Autonomia. Rio de Janeiro: Paz e Terra, 2015.
FREITAS, Isabel Maria Sabino de. Didática e Docência: Aprendendo a profissão. Brasília: Liber Livro, 2009.
FREUD, Sigmund. Cinco lições de psicanálise: A história do movimento psicanalítico; O futuro de uma ilusão; O mal-estar na civilização; Esboço de psicanálise. São Paulo: Abril Cultural, 1978.
MORIN, Edgar. Os sete saberes necessários à educação do futuro. Brasília: Cortez, 2002.
PERRENOUD, Philippe. Ensinar: agir na urgência, decidir na incerteza. Porto Alegre: Artmed, 2001.
Referencial Curricular para o Ensino Médio 2013 "" Secretaria de Educação do Estado de Rondônia.
SAVIANI, Dermeval. Pedagogia Histórico "" Crítica. Campinas: Autores Associados, 2013.
WALLON, H. Do ato ao pensamento: Ensaio de psicologia comparada. São Paulo: Vozes, 2008.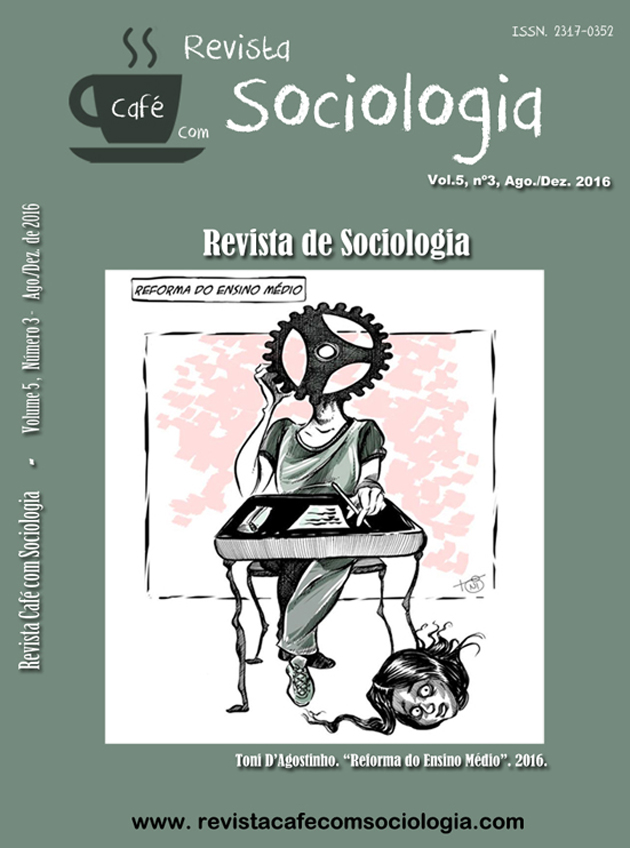 Downloads
Como Citar
Oliveira de Andrade, R. A., & Basto, E. (2016). ESTÁGIO SUPERVISIONADO EM ENSINO DE SOCIOLOGIA: observação da formação e prática docente. Revista Café Com Sociologia, 5(3), 70–83. Recuperado de https://revistacafecomsociologia.com/revista/index.php/revista/article/view/675
Licença
Autores mantém os direitos autorais e concedem à revista o direito de primeira publicação, com o trabalho simultaneamente licenciado sob a 
Licença Creative Commons Attribution
que permite o compartilhamento do trabalho com reconhecimento da autoria e publicação inicial nesta revista.