APRENDIZAGEM, AVALIAÇÃO E PERCEPÇÃO DOS EDUCANDOS NA DISCIPLINA SOCIOLOGIA NA MODALIDADE SEMIPRESENCIAL
Palavras-chave:
Avaliação. Aprendizagem. Semipresencial. Estudante
Resumo
Este trabalho busca investigar a percepção e o perfil do aluno na educação semipresencial do Centro Universitário São Lucas em Porto Velho, estado de Rondônia, no que tange aos processos avaliativos, de aprendizagem e concepção do que é educação semipresencial. Para realizar tal atividade, os processos metodológicos adotados foram a investigação bibliográfica, a aplicação de questionário semiaberto com análise quantitativa e qualitativa das informações coletadas, usando o método de análise de conteúdo de Pierre Bardin (2009). As discussões teóricas realizadas giraram em torno das concepções educacionais e formativas do modelo semipresencial na perspectiva do perfil acadêmico analisado, dialogando com aspectos sociológicos e psicológicos da teoria educacional, visando maior amplitude da análise. Os resultados apontam que o educando tem ainda uma visão reduzida e apriorística da educação à distância e de suas potencialidades, baseando-se na perspectiva tradicional de educação e avaliação, necessitando da presença do professor como condutor, não como orientador, do processo de aprendizagem. Apesar de acreditarmos na amplitude social da cultura tecnológica, percebemos que ainda há muito o que caminhar para que cultura acadêmica assimile efetivamente este aspecto, fato que este artigo apresenta.
PALAVRAS CHAVE: Avaliação. Aprendizagem. Semipresencial. Estudante.
ABSTRACT
This work investigates the perception and profile of the student in semipresential education of São Luca University Center in Porto Velho, state of Rondônia, with respect to evaluation processes, learning and design of which is semipresential education. To perform this activity, the methodological process used were bibliographical research, the application of semi-open questionnaire with quantitative and qualitative analysis of information collected using the method of Pierre Bardin content analysis (2009). Theoretical discussions revolved around the educational and training concepts of semipresential model from the perspective of the analyzed academic profile, dialoguing with sociological and psychological aspects of educational theory, seeking greater breadth of analysis. The results show that the student still has a small and a priori view of distance education and its potential, based on the traditional view of education and evaluation, requiring the presence of the teacher as a conductor, not as a guide, of the learning process. Although we believe the social breadth of technological culture, we realize that there is still much to walk to academic culture effectively assimilate this, the fact that this article presents.
KEYWORDS: Evaluation. Learning. Semipresential. Student.
Referências
BARDIN, Laurence. Análise de Conteúdo. Lisboa: Edições Setenta, 2009.
BOURDIEU. Pierre; PASSERON, Jean Claude. A reprodução: Elementos para uma teoria do ensino. trad. Reinaldo Bairão. Rio de Janeiro: Francisco Alves, 1975.
BRASIL. Sitio de Informações e debate sobre a Prova Brasil - QEdu. Disponível no link http://www.qedu.org.br/, acessado em 03 de Maio de 2016.
Ciências Humanas e suas Tecnologias/Secretária de Educação Básica. Brasília: Ministério da Educação, Secretaria da Educação Básica, 2006.
Conselho Nacional de Educação, CNE. Resolução CNE/CES 4, de 19 de Fevereiro de 2002, Institui as Diretrizes Curriculares Nacionais para o Curso de Fisioterapia. Brasília, 2002.
ENGUITA, Mariano Fernández. A Face Oculta da Escola: Educação e Trabalho no Capitalismo. Trad. Tomaz Tadeu da Silva. Porto Alegre: Artes Médicas, 1989.
HARVEY, David. A Condição pós-moderna: Uma pesquisa sobre as origens da mudança cultural. 18º Edição. Trad. Adail Ubiraja Sobral; Maria Stela Gonçalves. São Paulo: Loyola, 2009.
MEAD, Margaret. Adolescencia y Cultura in Samoa. 2º Ed. Buenos Aires: Samoa, 1961.
SAVIANI, Dermeval. História das Ideias Pedagógicas no Brasil. 2º Edição. Campinas: Autores Associados, 2008.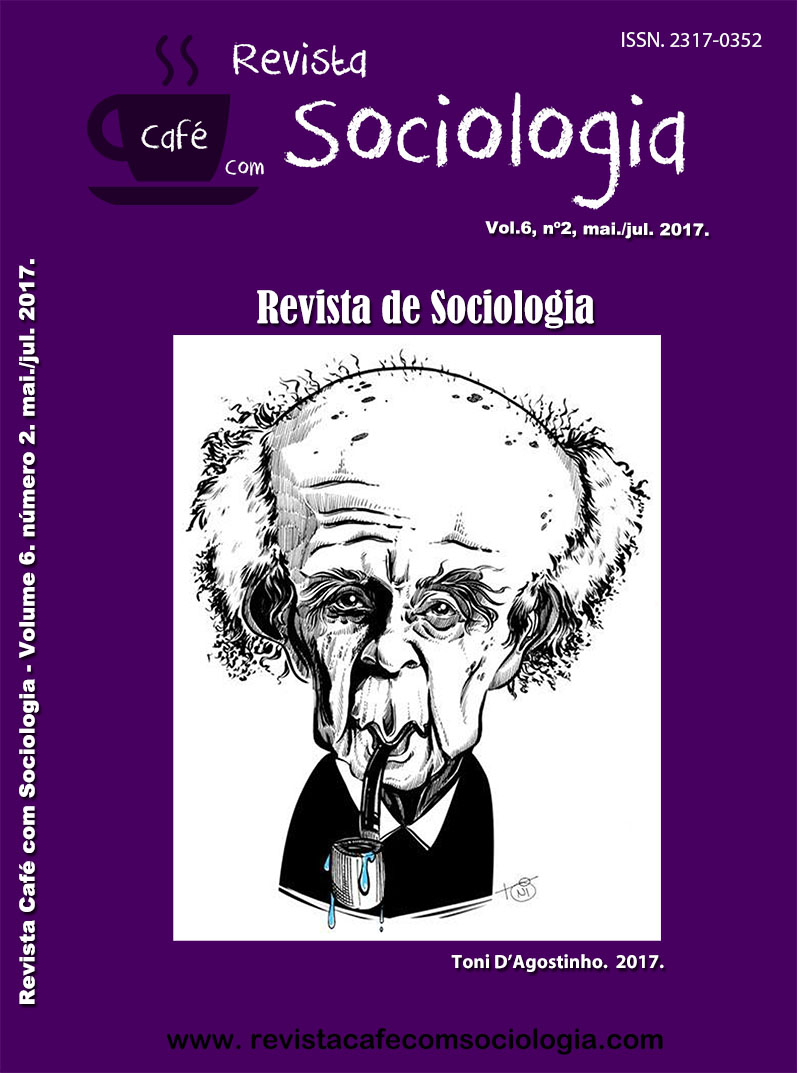 Downloads
Como Citar
Oliveira de Andrade, R. A. (2017). APRENDIZAGEM, AVALIAÇÃO E PERCEPÇÃO DOS EDUCANDOS NA DISCIPLINA SOCIOLOGIA NA MODALIDADE SEMIPRESENCIAL. Revista Café Com Sociologia, 6(2), 299–313. Recuperado de http://revistacafecomsociologia.com/revista/index.php/revista/article/view/755
Licença
Autores mantém os direitos autorais e concedem à revista o direito de primeira publicação, com o trabalho simultaneamente licenciado sob a 
Licença Creative Commons Attribution
que permite o compartilhamento do trabalho com reconhecimento da autoria e publicação inicial nesta revista.