Fotografia e ensino de Política: Pensando as imagens de eventos políticos no ensino médio
Palavras-chave:
Fotografia, Didática, ideação, ensino de política
Resumo
Partindo da constatação da forte presença de imagens em uma sessão de materiais de Ensino Médio, cujo conteúdo aborda conceitos e temas da Ciência Política, o presente artigo visa elencar algumas possibilidades de utilização de fotografias de eventos políticos presentes no livro Sociologia para o Ensino Médio de Nelson Dacio Tomazi, e demonstrar que essas constituem um material a parte que possibilita: uma rica análise heurística, trabalho com temas transversais e elemento gerador de ideações. Para tanto, utilizou-se de uma perspectiva interdisciplinar com colaborações de autores da História, Antropologia Visual, Didática e Sociologia para analisar três imagens e expor um conjunto de conceitos e abordagens que possibilitam enriquecer a prática de ensino por meio da utilização das imagens fotográficas.
Based on the observation of the strong presence of images in a high school materials session, the content of which addresses concepts and issues of political science, this article aims to list some possible uses of photographs of political events present in Sociology book for Teaching East Nelson DacioTomazi, and demonstrated that they are a part of the material that allows a rich heuristic analysis, work with cross-cutting themes and ideations generator element. To this end, used an interdisciplinary perspective with contributions from authors of History, Visual Anthropology, didactics and sociology to analyze three images and expose a set of concepts and approaches that allow enrich the teaching practice through the use of photography.
Referências
LIBANEO, José Carlos. A didática e a aprendizagem do pensar e do aprender: a teoria histórico-cultural da atividade e a contribuição de Vasili Davydov. . Rio de Janeiro,Rev. Bras. Educ. n. 27, p. 5-24, Dec. 2004
KOSSOY, Boris. Fotografia & História. São Paulo: Ateliê Editorial, 2001.
KOURY, Mauro Guilherme Pinheiro (Org.). Sociologia da Imagem - Ensaios Críticos (Edição em CD-ROM; Cadernos Especiais de Pesquisa). João Pessoa: GREI, 2004. 155p.
SAMAIN, EtienneGhislain. As peles da fotografia: Fenômeno, memoria-arquivo, desejo.UFG, Revista Visualidades, v. 10, p. 151-164, 2012.
________________________Como pensam as imagens. 1º edição. Campinas: Editora da Unicamp, 2012b. v. I. 240p.
________________________"žVer e Dizer na Tradição Antropológica. Bronislaw Malinowski e a Fotografia. "Porto Alegre, Horizontes Antropológicos v. 2: 19-48, 1995
TOMAZI, Nelson D. Sociologia para o Ensino Médio. 1º edição. São Paulo: Saraiva 2010.
DUBOIS, Philippe. O ato fotográfico e outros ensaios. 2º edição. São Paulo: Papirus 1993.
Documentos oficiais
Ciências humanas e suas tecnologias / Secretaria de Educação Básica. "" Brasília: Ministério da Educação, Secretaria de Educação Básica, 2006. 133 p. (Orientações curriculares para o ensino médio; volume 3)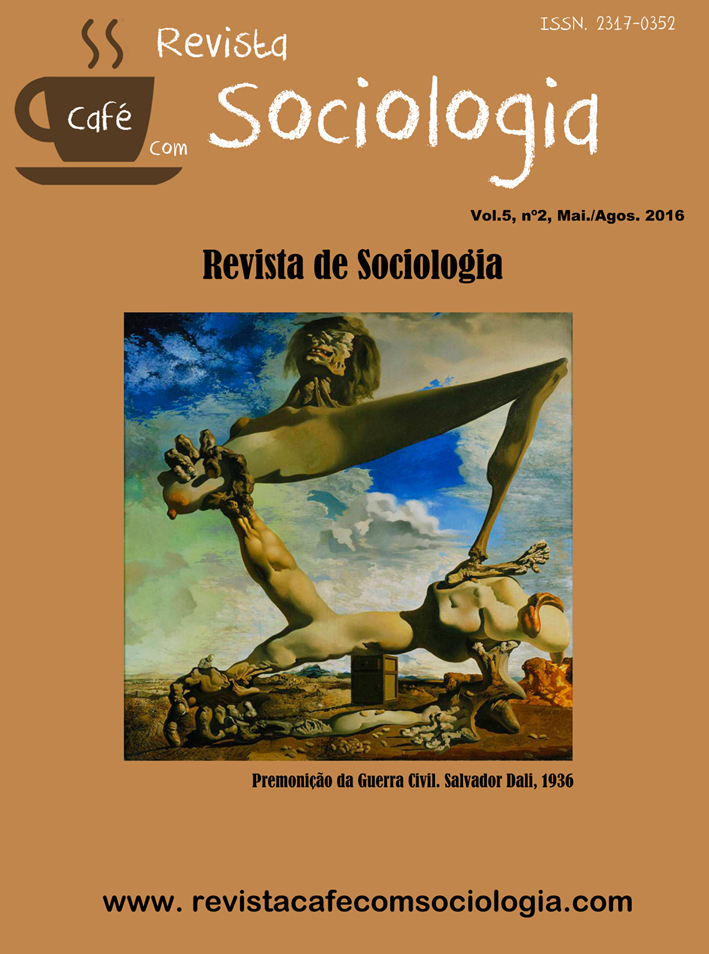 Downloads
Como Citar
Pereira, J. M., & Neto, M. S. R. (2016). Fotografia e ensino de Política: Pensando as imagens de eventos políticos no ensino médio. Revista Café Com Sociologia, 5(2), 36–46. Recuperado de https://revistacafecomsociologia.com/revista/index.php/revista/article/view/633
Licença
Autores mantém os direitos autorais e concedem à revista o direito de primeira publicação, com o trabalho simultaneamente licenciado sob a 
Licença Creative Commons Attribution
que permite o compartilhamento do trabalho com reconhecimento da autoria e publicação inicial nesta revista.