Por uma história do ensino da Sociologia: diálogos entre Brasil e Argentina Entrevista com Diego Pereyra
Palavras-chave:
História do Ensino de Sociologia, Ensino de Sociologia, Sociologia da Educação
Resumo
Na última década a "História da Sociologia" vem se constituindo como tema relevante de pesquisa na área das Ciências Sociais. Diego Pereyra, professor da Universidad de Buenos Aires (UBA), a partir da sua experiência de pesquisa e trajetória profissional, nos apresenta algumas questões relevantes em torno dessa temática de estudos na Argentina, onde dirige diversos projetos voltados à história do ensino da sociologia no ensino superior e pós-graduação. Na entrevista também são abordados aspectos políticos, culturais e educacionais relacionados ao processo de institucionalição da Sociologia no Brasil e na Argentina, destacando suas possíveis diferenças e similitudes nos diferentes níveis educacionais.
Referências
ABRAMS Philip. The Origins of British Sociology, 1834-1914. University of Chicago Press: Chicago, 1968.
BULMER, Martin. The Chicago School of Sociology. Institutionalization, diversity and the rise of sociological research, University of Chicago Press, Chicago, 1984.
HALSEY, Albert. A history of sociology in Britain. Oxford University Press, New York, 2004.
PEREYRA, Diego. La enseñanza de sociología en la Universidad de Buenos Aires (1898- 1921). Tesis de Maestría, Universidad de Buenos Aires, 1998.
PEREIRA, Diego. Razón y fe: Recorridos y tradiciones de la sociología en la Universidad Católica Argentina (1959-1984). VII Jornadas de Sociología de la Universidad Nacional de La Plata. Departamento de Sociología de la Facultad de Humanidades y Ciencias de la Educación (UNLP). Anais: Argentina en el escenario latinoamericano actual: debates desde las ciencias sociales. La Plata, 2012. Disponível: <http://sedici.unlp.edu.ar/bitstream/handle/10915/30407/Documento_completo.pdf?sequence=1>. Acesso em 20 de outubro de 2015.
TRINDADE, Hélgio. (org.) As Ciências Sociais na América Latina em perspectiva comparada. Editora UFRGS, Porto Alegre, 2007.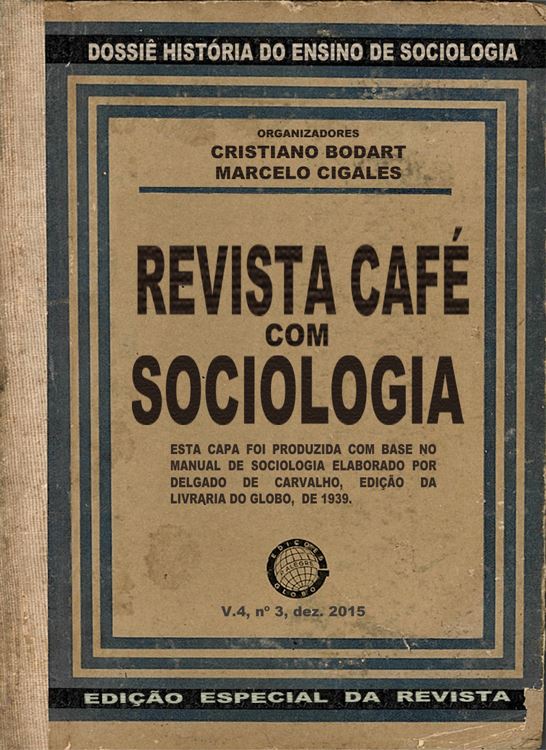 Downloads
Licença
Autores mantém os direitos autorais e concedem à revista o direito de primeira publicação, com o trabalho simultaneamente licenciado sob a 
Licença Creative Commons Attribution
que permite o compartilhamento do trabalho com reconhecimento da autoria e publicação inicial nesta revista.